The first #messwithemg event (Meet.Engage.Socialize.Series) took place this evening in Geneva. The Geneva private wealth community gathered at our offices for another very successful event co-hosted by Notz,Stucki & Cie.
Cédric Dingens Head of Risk Management & Partner started the proceedings by introducing Notz, Stucki & Cie. Founded in 1964, the Notz Stucki Group is today one of the largest fully independent asset managers in Europe with a global AUM of approx. $8 billion. It prides itself to have kept a strong entrepreneurial spirit despite its size, with an ability to quickly adapt to evolving market conditions. Services include discretionary mandates, advisory mandates, fund services and a variety of equity and fixed income Notz Stucki Funds.
Hicham Hammoud, then provided his views on Emerging Markets driving the notion that the sector has evolved but that opportunities remain. Investors can no longer expect double digit growth in key markets like China but new sources of growth can be generated if structural reforms are successful. He also gave his views on commodity prices, currencies and yields. He expects emerging market credit to over perform emerging market equity in a context of lower growth. Finally, he believes that the lack of opportunities in developed markets should bring renewed interest to this sector.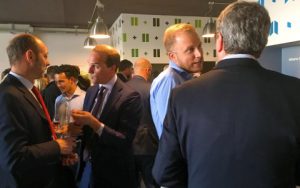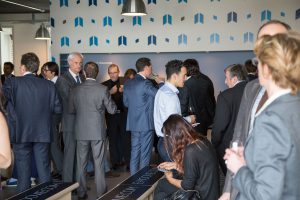 With over 90 people in attendance, this event was a great opportunity to meet with our community, engage with peers and socialize in a relaxed atmosphere.
Our #messwithemg events continue in May. We will be in Singapore on the 19th May 2016 (in collaboration with Finews Asia and Bordier & Cie) and in Zurich on the 24th May 2016 (in collaboration with MRP hotels).
(Source: E-Merging)