What happened during those last 4 years at Fusion?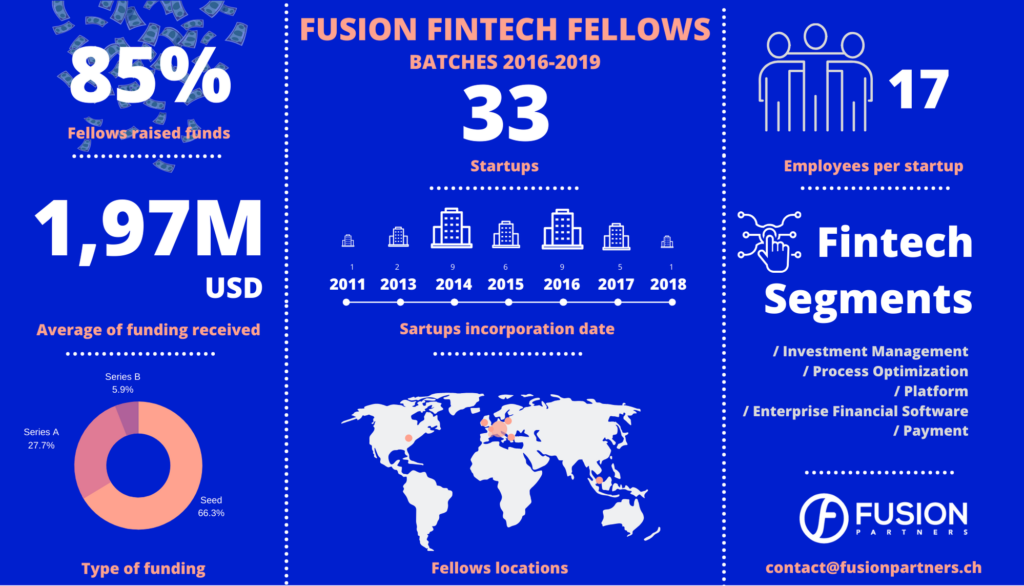 Already 4 years and it seems our first candidates selection meeting was just yesterday!
Fusion startups acceleration program started in 2016. After 4 batches, let's have a look at what has been going on at Fusion during throughout this period.
Positioning
During season 1 and 2, most startups were positioned as industry challengers, focusing on the core activity of investment management. We were at the peak of the robo-advisors trend.
This has evolved over time. The purpose pursued by the startups of the following batches was rather to enhance the industry instead of radically changing it, by focusing on process optimization, financial softwares, etc. The portfolio manager will not be (totally) replaced by a robot, but "augmented" by technology.
Profile
We have been surprised to observe over time the increasing level of qualifications, experience and seniority of the entrepreneurs applying to the program. They would typically employ between 7 and 25 persons, with a recurring cash flow from paying clients.
And this is reflected in the figures. Though it is not the primary objective of getting into the acceleration program, 85% of the startups managed to raise funds, for and average amount of nearly CHF 2 million each.
Results
Today more than ¾ of the 33 startups which have gone through the Fusion acceleration program are still in business – more than ever!
2019
Finquartz – Turn Financial News into Portfolio Intelligence
Digibon – With Digibon you will never lose a receipt again and fight against paper waste
Trustless.ai – A new computing platform built around a 2mm-thin personal computer that seamlessly brings privacy and security to your private digital life and e-banking, by eliminating the need to rely on unverified trust in anything or anyone
Eversend – A neobank for Africans, anywhere in the world
Bond.ai – Human-Centered AI For Banks
Delio – The digital infrastructure, processes and tools that help organisations enhance their private asset proposition
Apiax – Regulations mastered digitally
Ezycount – Simplify your accounting and save time
 2018
Fizi (stopped) – Fizi helps self-directed investors to navigate the stock market world, by assisting them to find, monitor and learn about opportunities.
Yawave – Yawave is a revolutionary cloud sftware that maximizes reach by activating employees, customers, fans, etc… with unique and powerful tools for leveraging companies'network communication power
SystemCredit – Systemcredit is a service provider to the lending industry
Fred de la compta – Fred is a web & mobile appliance for accountants and entrepreneurs that automates their online accounting and put them in touch with a chartered accountant who knows their industry
Bambu– Bambu is a B2B robot-advisor firm offering financial and non-financial firms the ability to integrate and benefit from the shift in digital wealth
Dashmote – Dashmote uses proprietary AI and Computer Vision Stack for trend analysics through images
Wealth Initiative – Marketplace and valuation tool for non-bankable assets
2017
Mont Pelerin (Ex Smex) – Mt Pelerin uses the blockchain to create a bank that will connect people and businesses, and give them an unprecedented access to financing and investment
Finlight (Ex Stripyour banker) – We empower individuals to become their own investment managers providing deep insights & recommendation to choose the right portfolio of funds
Younify (stopped) – With Younify banks supercharge their e-banking system, turning it into the main control room for their clients to store, sort, process & pay bills
Corezoid – We help banks create brand new products for their clients and automate internal processes via a lego-block-type progress engine
Neuroprofiler – Neuroprofiler protects your data
Foxstone – Foxstone democratizes real estate investment through a crowdfunding platform allowing everyone to invest, with a minimum of CHF 25000
Indigita – We automate cross-border compliance checks by providing banks a simple yet powerful engine that gives concrete answers to specific cross-border regulatory issues
Signatys – We enable insurance companies, real estate agencies, notaries and banks to implement digital signature
 2016
Maecenas (Ex DXMarkets) – Maecenas is a marketplace for art investment. It allows art owners to create financial instruments backed by their collection
EdgeLab – Edgelab brings scientific rigour to risk mitigation
Biowatch (stopped) – Biowatch transforms your watch into a secure source of identification using the unique pattern of your veins
Wecan Group – Wecan co-create blockchain solutions with strategic partners from different industries
Scanye – We deliver seamless invoice payment solutions to companies
Investivity – Investivity is what Betterment should have been: irresistible alpha strategies that you can assemble and customize at will
Peer Mountain (Ex KYC3) – The only decentralized identity and compliance ecosystem that puts people in control of their protected personal information and rewards their community for trustworthiness
IBT (stopped) – Offers an online solution where contracts are registered and authenticated in any blockchain.
eINS – eINS.tech is a technology company, specialized in insurance information systems.
AceBanker – AceBanker is a cloud-based digital banking platform that digitize the wealth expertise of financial advisors, turning them into "bionic advisors"