In early May 2016, Franck Muller and Notz Stucki had the pleasure to present their fund on the thematic of luxury investing.
The event took place in a splendid site on the shore of Neuchâtel's lake, "the Laténium". Largest archaeology museum in Switzerland, it covers thousands of years of local history from the Neanderthal man.

Mr. Kaeser, director of the museum, welcomed attendees in this magical place where curiosity, discovery and fascination were key words. Attendees had the possibility to travel through ages and discover the temporary exhibition "Behind the Great Wall of China". This exhibition illustrates centuries of bloody confrontations between horse riders from Mongolia and China at the time of the first emperors.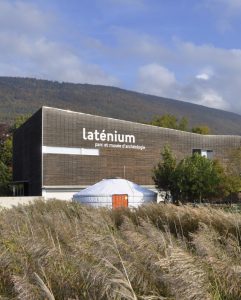 Mr. Kaeser provided very interesting explanations on this period and an introduction to these ancient cultures. Then, Franck Muller and Notz Stucki presented their DGC Franck Muller Luxury Fund. In this collaboration, Franck Muller brings its expertise of a qualitative approach of the luxury world and Notz Stucki adds its quantitative analysis skills and its long experience in funds management.
The team managing the fund shared its views and expectations on the luxury market, detailed some high quality stocks of the portfolio and presented a short analysis of their strong convictions.
That evening was a timeless gateway, an immersion in ancient history and above all an opportunity for professionals to discuss and share their views on the luxury market.