Luxury: resilience of the 3 musketeers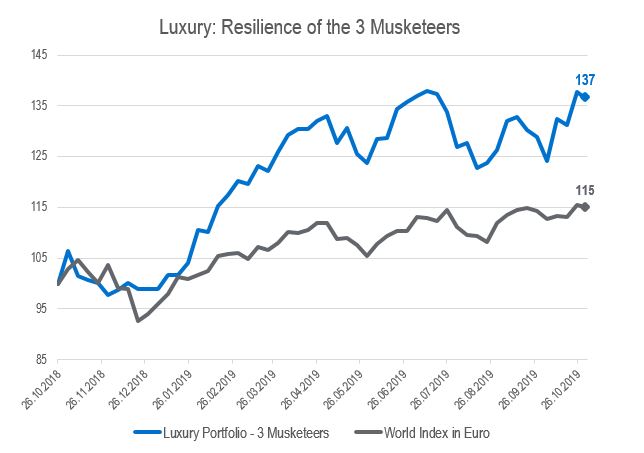 Marketwise, a year never resembles the previous one. Nevertheless, one element persists: the ability of the major Luxury Goods companies to sail on headwinds, to adapt and resist. Many events have put the market under pressure this year: political and economic episodes, sectoral rotations, trade war, uprising in Hong Kong… Some of these events have had a greater impact on companies in the luxury sector (trade war between the United States and China, riots in Hong Kong, announcement of taxes on imports from the European Union, slowing in China). There is concern about the ability of these companies to overcome this pressure, with the Chinese consumer being the largest consumer in Luxury Goods and Hong Kong being a central attraction for Asian consumers.
In the last 12 months, a portfolio composed of the equally-weighted three big luxury goods companies outperformed the market significantly, after recovering December's losses much faster than the latter. These three major luxury goods companies, none other than LVMH, Hermès and Kering, published their third quarter results in October. The observation is the same for all: the three recorded strong sales growth in the third quarter (which includes the riot period in Hong Kong and its escalation). Of course, sales in Hong Kong weakened, but they were completely offset by the other Asian regions, resulting in a strong acceleration of growth in Asia. This region represents between 40% and 50% of the sales of these three companies. These companies have put great efforts into expanding this region of the world, developing e-commerce and opening stores to increase local consumption.
Luxury has a bright future ahead, with a moderate premium today over global equities. We are close to 9% and have already reached much higher levels several times in the recent past (20%). A low premium is generally a good indicator to enter this sector of opportunity.
Stock prices react quickly, these companies keep surprising by their level of margins, their great ability to diversify within their business lines and to adapt to consumer demand. The headwinds will still be very strong in the last quarter of the year but growth is on track! A lesson to learn: these three musketeers still have some nice things to show and it would probably not be a bad idea to buy them at market corrections.