LOOKING FOR AN INVESTMENT OPPORTUNITY? THINK LUXURY!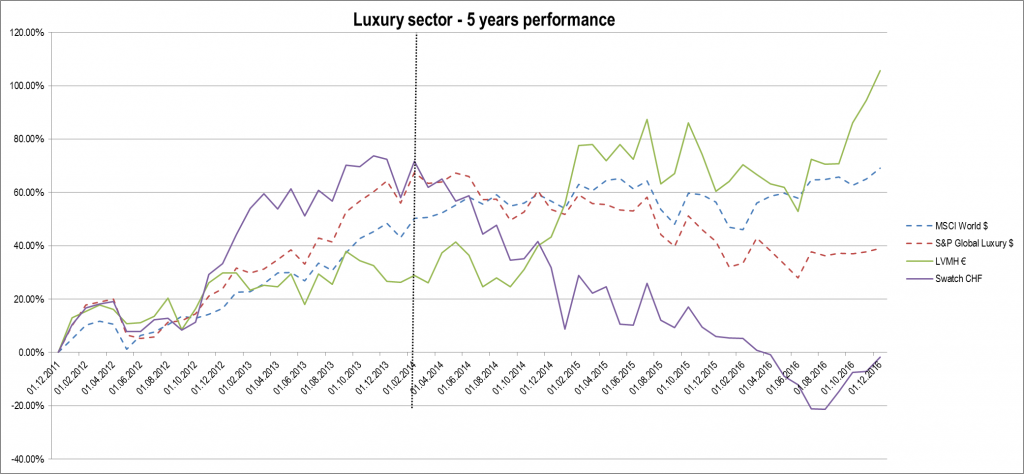 In Geneva, January is synonymous with fine watchmaking, an opportunity for brands to present new watch models and innovations.  The SIHH just closed its doors, let's take a moment and talk a little bit about the great potential we see in Luxury.
The chart above compares total returns in local currencies of 2 indices and 2 luxury companies over a 5-year timeframe. When it comes to indices, the MSCI World Index is a proxy for the entire market and the S&P Global Luxury Index is composed by 80 of the largest publicly traded companies engaged in the broad luxury sector. Then, we have Swatch Group, a pure Hard Luxury player (Watches and Jewellery) and LVMH, a well-diversified luxury company (Leather goods, Apparel, Wines & Spirits, Cosmetics and Watches and Jewellery). The result is clear: the Hard Luxury player Swatch had a negative 1.69% total return over the period versus +105.63% for LVMH and +39.09% for the luxury index.
What conclusions can we draw from all this? First, the selected timeframe can be split in two phases: after a good period of outperformance the luxury market stopped its rally and reached its peak in February 2014. What really brought the performance down? Beyond the turmoil provoked by the Greek debt crisis, falling oil prices, potential recession, China's economic slowdown and production overcapacity…the performance was brought down by one subsector in particular: Hard Luxury. For Hard Luxury players (see Swatch as an example), the spectacular fall into disgrace started in February 2014 and has lasted until recently. What happened? The subsector encountered some sales issues. Companies grew too aggressively during the first phase, outperforming by far the market, but have had to deal since then with falling sales and exports, restructuring and currencies issues. The sector has now entered a transition period, hopefully reaching a stabilisation in a 1 to 2 years' horizon.
Fortunately for the Luxury sector, it has been driven during the last 2 years by other subsectors as Cosmetics, Leisure and Soft Luxury. Companies are well-structured and have offered slower but more secure and healthier growth in all their divisions. Let's take the example of LVMH. After underperforming in the first phase both the market and the luxury sector, the company has been driven by its diverse divisions, the good performance of Soft Luxury (apparel, leather goods), Cosmetics and Wine & Spirits and has taken advantage of the lower euro cost base. The question now being asked is can it last forever? Probably not at this pace; as investors we have to remember that subsectors rotate over time and precisely Soft Luxury may fade in time or slowly give way to others. Winners may become losers as it happened in November 2014. The Luxury sector, due to its resilience and its recent turnaround, looks like a good investment. This sector enjoys exceptional fundamentals, strong balance sheets, and growth potential, and reserves some pleasant surprises. Companies have started restructuring, emphasis has been put on luring each generation (baby boomers, millennials…). PEs are stable, EPS continue to stabilise, in relative terms, Luxury has a similar PE (16x results) but a higher expected ROE than the market.
Gone are days when Luxury was an unloved sector. The trend is moving in the right direction for the sector: January performance for the Luxury index was 4.80%, outpacing the MSCI World Index by 236 bps…