Heart shaped hedges, Japanese gardens (« Johnson's aeroplane" – INXS, 1984)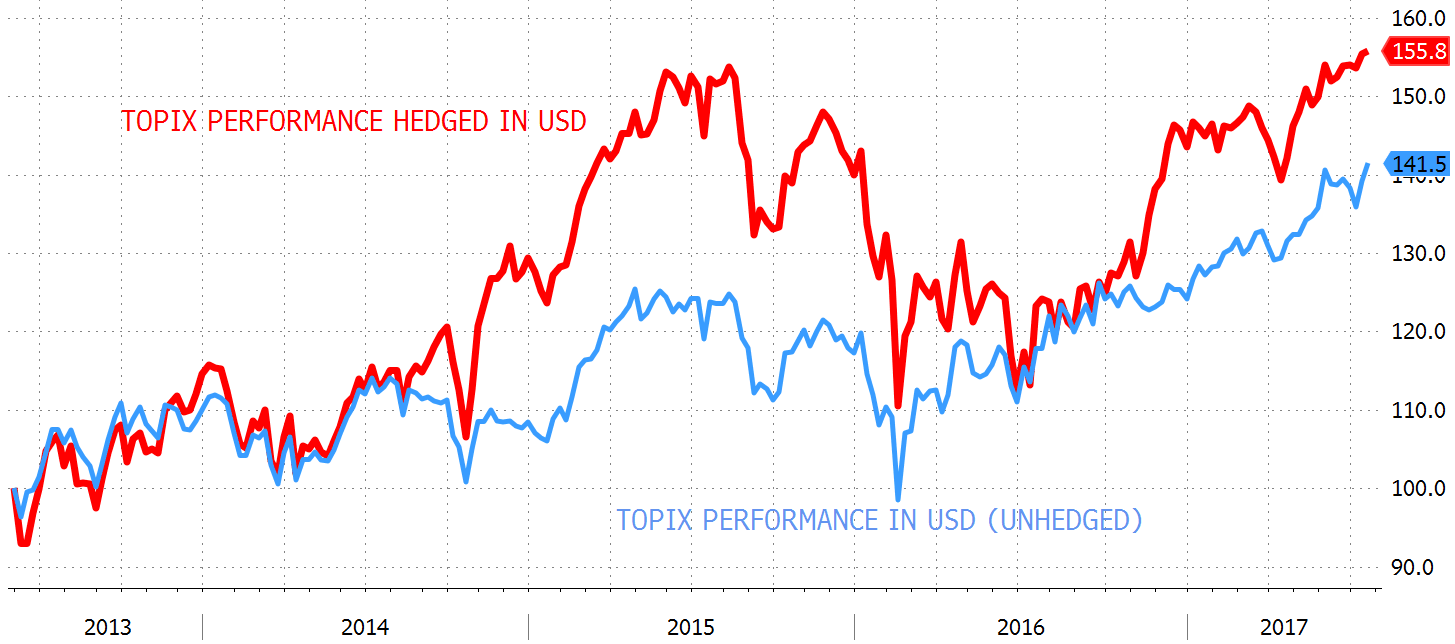 When it comes to buying Japanese equities for a non-Japanese investor, this emotional question always resurfaces: how do I manage the currency risk for the seeds I sowed in the Japanese garden, i.e. do I hedge the JPY currency risk on my equities or not?
As in recent years the Bank of Japan has made it clear it is determined to maintain or increase its quantitative easing program as well as all the required stimuli to prop up inflation to decent levels; the logical financial consequence should be a weaker currency. As can be seen on the chart of the month, from the end of 2014 until the middle of 2015, the Japanese equity market applauded loudly with a spectacular rise (red line) and at the same time currency traders understood that the Yen was deemed to weaken and went short, which limited the performance of the market for a non-Japanese equity investor who had not hedged the Yen (blue line).
For those who remember, this was a no-brainer strategy: you should buy Japanese equities because of the strong tailwind provided by both the Government (remember Mr Abe's three arrows) and the Central Bank, and at the same time hedge the Yen in order to get the full appreciation of the market (and even a bit more thanks to the interest rate differential which made selling JPY forward versus most currencies profitable). And it has worked very well, but only for a limited period: when looking at the chart of the month, it was the right strategy for 6 to 9 months (from 2014 Q4 to 2015 Q3) but then it changed.
We, at Notz Stucki, stand in the "don't hedge" camp.
After this exceptional period of strong equity market and weak Yen, things came back to normal and the market reminded investors that the inverted correlation between the Yen and Japanese equities was valid, not only on the upside for equities, but also on the downside: you get the best of both worlds when the market rises, but you get the worst of both worlds on the downside! Therefore, apart from some specific periods, it appears that it is much better to hold Japanese equities and leave the Yen unhedged because it reduces volatility significantly. During the selected timeframe shown on the chart of the month, although having hedged the Yen would have provided a better performance, the latter comes with much higher volatility and barely surpasses the levels reached two years ago (red line), whereas the blue line (running equity and currency risk) is at the High Water Mark level.