Fusion – the first-ever FinTech business incubator in Switzerland – exists to shape innovation in financial services by combining up-and-coming tech talent with Swiss state-of-the-art financial know-how. As a Fusion member, Notz Stucki is actively involved in the incubation process.
Discover our series "7 questions to a start-up" to get a feeling of who are the participants of the incubator Season 2!
7 questions to Patrick Genazzi, Marie Arya-Gillioz and Benoit Hailly.
Indigita is BRP SA and Orbium RegTech joint venture providing banks with digitized regulatory smart data for cross-border banking. It is solving the problems faced by banks and financial advisers with international business when it comes to cross-border compliance. It takes the best from its parent companies BRP SA and Orbium, experts in regulatory and IT consultancy, to develop the perfect solution to meet ever-changing cross-border regulatory challenges. It is based in Geneva and Zurich.
1/ Who are you?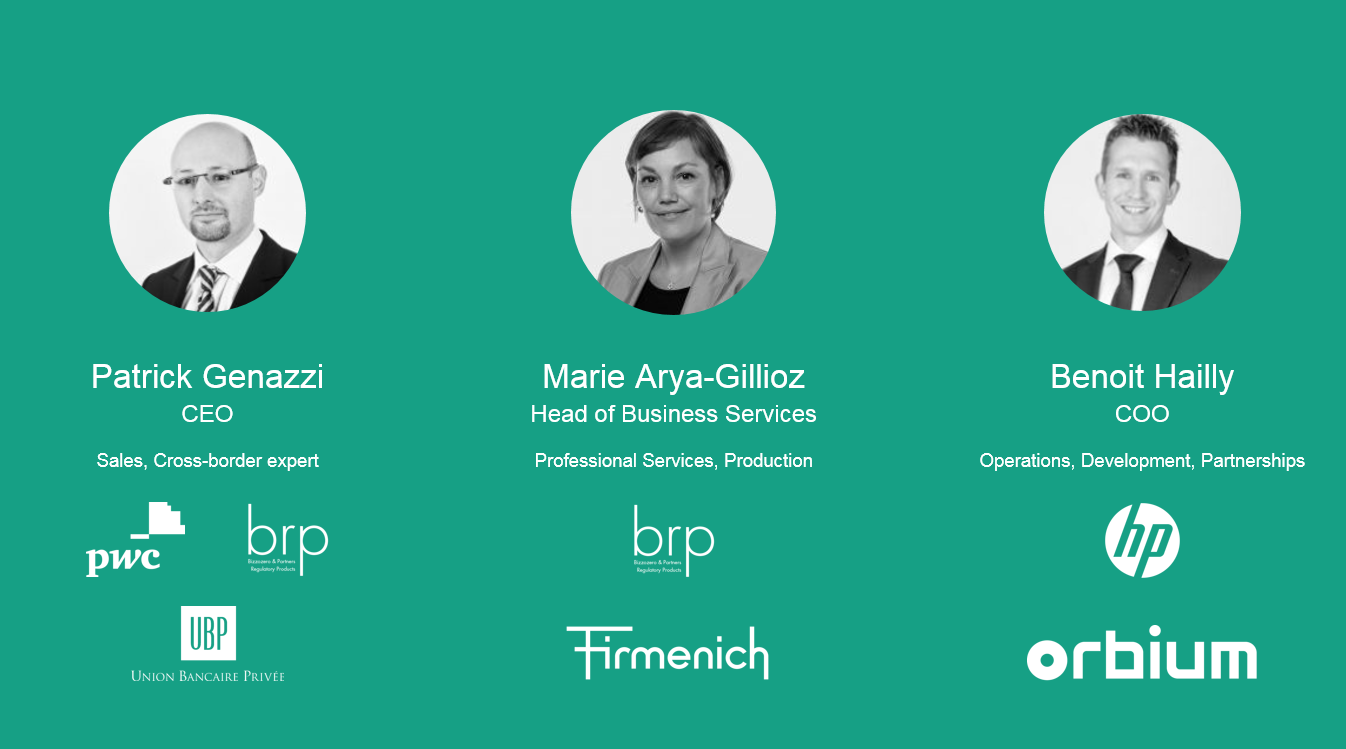 2/ What does your company do?
The Indigita solutions offer the potential for Private Banks and Wealth Management Companies to achieve major efficiency gains, more consistent application of their compliance policies across the organization, and to reduce the risk from non-compliant cross-border activity. A technology-based first line of defense, reduces the need to call on specialist compliance staff for routine matters and frees them to concentrate on more complex cases that require specialist expertise. Equally, integration of checks and rules into the organization's work-flows ensures they are applied consistently – particularly in relation to "Grey Zone" issues where rules are not clear-cut and the institution must decide its own approach – and that cases are fully documented and auditable.
This approach delivers an effective, workable response to the extremely complex web of regulation that now impacts on cross-border Private Banking and Wealth Management services. Ultimately, the Indigita solutions enable Private Banks and Wealth Management Companies to strike a proper balance between three key strategic goals:
To ensure enterprise-wide compliance
To provide excellent customer service
To create an operating framework that can scale with the organization
3/ What's the founding story behind Indigita?
Private Banks and Wealth Management Companies that provide cross-border investment advice and services to wealthy clients face an expanding maze of regulation. The surge in regulatory activity over the past seven years has led to a greatly increased volume of rules that are extremely complex and constantly evolving, that vary from one jurisdiction to another, and that must be understood and complied with equally both in the country where the intermediary is based and where the client is domiciled.
BRP SA understood the need to deliver to Banks and Wealth Management Companies Cross-border information in a structured manner, conceptualized in the BRP Country Manuals. Quickly the idea raised to move to the next steps: digitization and automation.
4/ What was your proudest moment in your company's history so far?
There are many, but most probably when one of the major Swiss Bank, active at international level, called us and ask us to present our solutions to their board.
5/ What's the vision behind Indigita?
Technology is the only way to handle the regulatory complexity increase. But technology alone, without a deep understanding of the business is an empty shell. Indigita is combining both expertise to deliver the ideal solution.
6/ What's your biggest challenge right now?
To ensure the continuous high quality despite the massive increase of volume.
7/ Is there any inspirational saying or words of encouragement you want to share with other creative/disruptive professionals?
When you believe in your vision: look forward and never turn back!
Twitter: @fintechfusion
Photos & Text: Indigita Team